METAL FENCE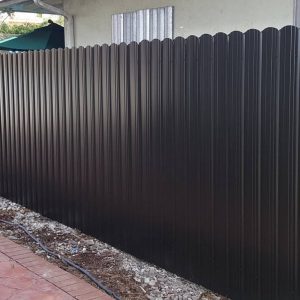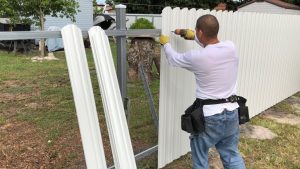 A Metal Fence is a great and economical way to add a Privacy Fence to your home. They are very elegant, durable and resemble a vinyl fence in its appearance. We are now offering the newly revised code compliant Metal Fence guidelines against corrosion, which happened quite often with the older Metal Fence material that was being installed.
As the Fence Code changed for Metal Fences, we stayed on top of all new regulations and mandates to not only be compliant but to also give our customers and community an approved quality product for their next Privacy Fence installation choice in their homes. Contact Dolphin Fence Corp today for an instant quote on your Metal Fence Installation.
Remember, Metal Fences come in different colors and can also be installed in different ways which is one of its pros. Surely, at some point or other you've come across a Metal Fence somewhere in the SW FL area as they became very popular early 2000's or even before that. We started doing our homework and found that this, as we've mentioned before, is a great choice to incorporate a Privacy Fence in your property.
As Wood Fences are becoming a thing of the past here in SW FL due to the weather conditions we have to endure, this type of fences are becoming more and more popular for those who are looking for privacy in their homes. However, you must check with your jurisdiction to make sure you are allowed to install a Privacy Fence of any type.
Such decisions are made on code, waterfront properties, properties on a corner lot and or in a private community may determine wether or not you will be able to install a Privacy Fence in your home.
Conclusion, a Metal Fence is a great alternative  for a Privacy Fence. It will not wrought like wood and will give many years of almost free maintenance and peace of mind also looking very elegant and increasing the value of your home.
Please, continue checking our site in case you'd be interested in another type of fence for your home…Thank You!
https://westernfencesupply.com/